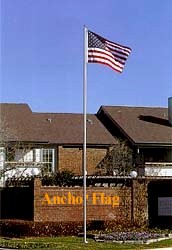 Click small photo to enlarge it.
Anchor, Quality Flagpoles
Small business, apartment complexes, model homes and private residences are prime locations for the quality tapered aluminum flagpole. Estate flagpoles are manufactured from the same high quality materials, and to the same standards, as the architecturally designed Continental Flagpoles. Estate flagpoles are especially striking when installed in groups.
Standard fittings include a gold anodized aluminum finial ball; cast aluminum stationary single halyard truck; limited stretch braided polypropylene halyard; cast nylon snap hooks and 6" cast aluminum cleat. A PVC ground set foundation sleeve and complete installation instructions are included. Optional fittings are available.
Estate flagpoles are polished to a deep luster finish.